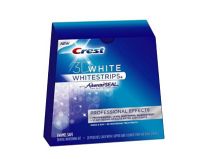 Keeping your "pearly whites" white can be tough. Especially when we consider the number of drinks we consume that can quickly stain our teeth. So I asked my dentist if there were any teeth whitening brands that were successful at whitening teeth at the same level as his professional grade system.
His answer couldn't have been any quicker, "Crest Whitestrips". Needless to say, I was quite surprised. I had tried these in the past and felt I got "okay" results. But he assured me that the brand has come a long way since years past, and that he has seen significant results with patients that opted for this method as opposed to his whitening trays.
So of course I tried it.
The 3D White Whitestrips Professional Effects, promise to show a noticeable difference in 3 days and a significant difference in 20. The strips themselves are easy to apply to top and bottom teeth and they stick to your teeth really well, so there isn't a fear of the strips slipping off.
For me, I saw an improvement within 2 days and all the more so after a week! After another week I saw enough of an improvement that I stopped. Hey, no need for a "glow in the dark" smile for me.
So if your in the market for a relatively inexpensive ($50 vs. $500) teeth whitening system, I would suggest Crest. It's a game changer!
Rating: