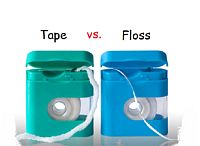 If you're like me then you hate spending too much time shopping for anything, well maybe not gadgets or cars… ugh, never mind!  Anyway, when it comes to shopping for food and toiletries, my mindset is get in, get out. So when I saw dental floss on "the list", I just grabbed the best looking one for the best price and kept it moving. Well, when I got home I realized that I purchased dental tape… So what right? I mean, they all work between the teeth and do what their supposed to, so I thought… The sad part for me is that the dental tape spent more time getting stuck between my teeth instead of actually cleaning them!?!
That's when I realized that there apparently is a true difference between dental floss and dental tape. So here'e the bottom line.
Dental tape is thicker and is geared towards larger spaces between your teeth.
If you have tight spaces between your teeth like me, then you may find that a waxed floss is easier to slide into those tight spaces.
Teeth "under construction" (i.e. braces) consider a spongy floss. However any floss can be used if you wear dental appliances, especially if you have a floss threader.
And there you have it. No matter the choice, make sure you use it. Because you only have one set of teeth, so take care of them!