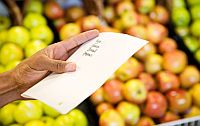 Did you know that according to the National Institute of Dental Research, nearly 65 million Americans have bad breath? Yeah, that makes for way too many uncomfortable conversations!
Since this statistic is so high, I thought I would do my part in sharing a few food choices that help to fight bad breath. Hey, besides the fact that these food choices are very effective in fighting bad breath, it's also important to me for my readers to NOT be included in statistics like this one!
See below…
Cinnamon - has antioxidant and antiseptic benefits which work to prevent germs in the mouth from wreaking havoc on your breath.
Citrus fruits - Vitamin C attacks bacteria in the mouth the same way it defends the body against the common cold.
Spinach and parsley - both contain chlorophyll which has antibacterial properties that kill germs to freshen breath.
Green tea - is rich in polyphenols, an antioxidant that protects cells from harm, including bacterial invasion.
**Also keep in mind that masking bad breath with mints can actually make your breath worse. These mints typically have a high concentration of sugars, which provide bacteria the energy they need to multiply and invade the teeth and gums. So focus on combining a healthy dental hygiene regimen that consists of brushing and flossing with a tweak in your food selections, and will be on your way to avoid being included in this gnarly bad-breath "statistic"!