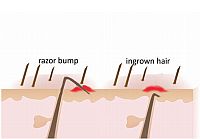 Ingrown hairs are the result of the hair growing back into the skin. Why do so many men (and women) suffer with this?
Let me help shed some light on this.  But first, I need to establish that knowing the correct way to shave (Quick & Classic Shaving Tips),  is the #1 step to reducing ingrown hairs.
So let's begin.
Two things you MUST stop doing!
Shaving against the grain
Following the trend of multiple blade  razors (all have lift-cut engineering)
Why? Because both practices promote a smoother shave by cutting the hair "below" the skin line. However, the main objective in reducing ingrown hairs is to control the hair.  And, the only way to control the hair is for you to see it.
Most men that suffer with ingrown hairs have curly or wavy beards.  These beards grow at an angle out of the skin anywhere from 0 – 40 degrees (very low to the surface). So your best bet is to shave in a way that will keep the hair "above" the skin line.
I recommend…
Shaving with the grain
Less is more…blades that is.
Try single or double blades – more control in customizing the length of the beard.
Consider razor blades with guards that prevent the hair from getting cut too close (ex.

Bump Fighter razor blade w/ Bump Guard

)
Replace often – use same razor no more than 3 times
Or…
Try electric shaving
There are quite a few post shave products on the market that are designed to assist in remedying this issue as well (i.e. 3-in-1 Post Shave, The Cool Fix & Bump Patrol).  However, as I stated earlier, knowing the correct way to shave is the first step.